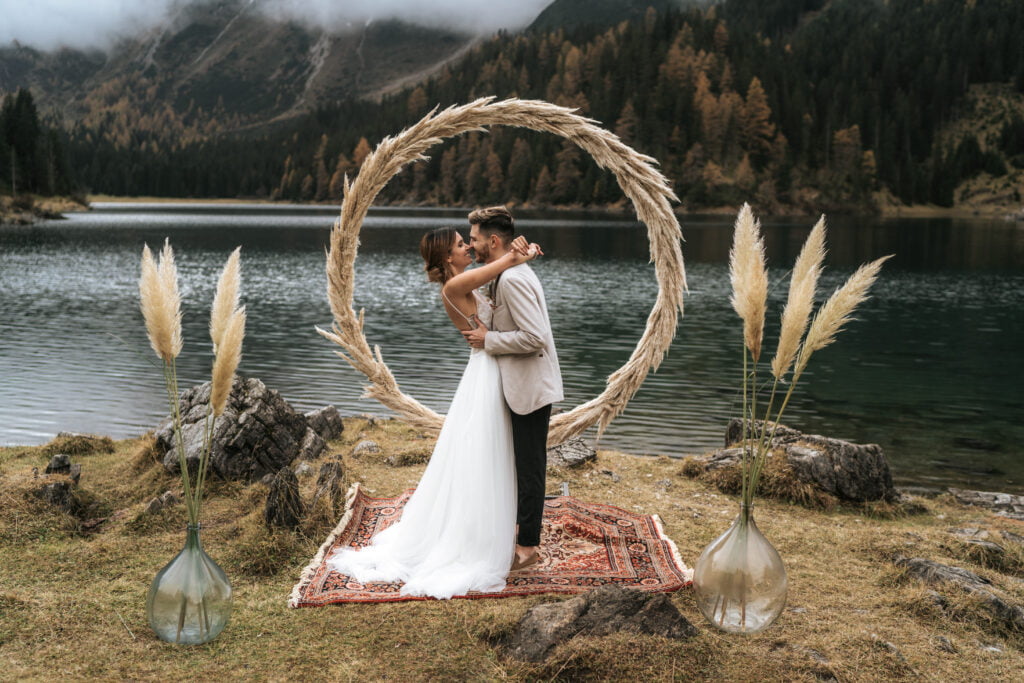 what do you need to elope
As old heads in the wedding game, we have been there quite a few times already, on the most beautiful day! On the day that two lovers say yes and make a bond that lasts forever. Sometimes, however, there can be a slightly stale aftertaste…after the euphoria of celebrating the big day with all of your lifelong friends and family, the Bride and Groom can feel like their priorities were only to keep all of the guests happy and peaceful. Unfortunately, that has nothing to do with celebrating a festival of love and certainly nothing to do with celebrating both yourself and your partner! An elopement takes the most important and emotional parts and brings them all together. The great thing is, that not only have we organised and accompanied couples on a lot of mountain elopements in the last year, but we also ran off to Scotland and did it ourselves! We had our experience captured on film and had such a wonderful experience that we would do it again and again. So, what are your 'must haves'? What should your wedding ceremony have so that it perfectly reflects you? What shouldn't be missing on the big day? Because an elopement in the mountains is definitely not a slimmed-down version of a marriage, on the contrary, it's a much more intimate and concentrated love. With all the details and preparation focused on the two most important people - that is of course YOU! Maybe right now it all seems a bit complicated - but by no means is it - because you have us by your side at every step and together we will create an unforgettable day. We have already created and implemented some of the most extraordinary ideas and are so looking forward to accompanying you with your individual, intimate wedding. What do we need to know about you? Should the elopement take place at a mountain lake or on the summit? Hike or cable car? Hotel or Alpine Hut? Musician or boom box? Wedding MC or Personal Vows? Your closest confidants with you or just the two of you? Make a statement - a statement of your love for each other!
eloping to get married
Focusing on each other & knowing that this ceremony is meant to join two people even closer together!
An Elopement is one of the most intimate things you can do when it comes to saying 'I DO'! There will always be 100% of your Love & Emotions involved and you may be extremely nervous. After all you are standing on the top of a mountain - expressing your vows to the most important person in your life - surrounded only by the stunning landscapes and the open sky above. There is quite possibly nothing more romantic than that and not even the weather can do anything to spoil such a special day. But we will of-course be there guiding you every step of the way, to make this moments last forever.
What does elopement mean?
It doesn't just mean "running away" – it means much more to celebrate the love of two people intimitely, without guests you have to invite or family members who you only see once a year.
Isn't that what a wedding is all about?
Two people in love – a breathtaking background – an unforgettable experience Many of our couples do not necessarily elope in secret, they just get married between the two of them and the celebration with friends and family follows after. It doesn't mean that you have to miss out on anything – it actually means that you get a lot more in a in a very relaxed environment.
Why do we know this?
We "ran off" to Scotland ourselves and celebrated our elopement there – of course it rained and was brutally cold, but it was still the most memorable day of our lives! The amazing thing about a Mountain Elopement in Austria is that you can even make the whole thing official. In some places there are motivated registrars who officiate weddings outdoors – that means you don't necessarily have to attend the bog-standard ceremony in an outdated registry office.
What can or can't you do?
There are virtually no limits!
You can decide when and where, whether during the week, on a Sunday or a public holiday – whether a breathtaking mountain lake or with the Dolomites in the background. Of course you can also bring some guests with you but we recommend "less is more" – after all, it should be all about you.
How does the process work?
It's all up to you too but we're of course happy to help with all our experience and local expertise. But it also depends a little on the location – if you are looking for some adventure, we would recommend a (multi-)day hike. If you want a little more relaxation, we can take the car to a mountain lake or go by cable car to a summit.